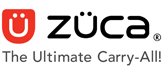 Up your game with the latest Disc Golf carts from ZÜCA, the leader in disc transport! They have a variety of cart designs engineered to fit any style of play. Their rugged rolling cart has everything you need to hit the course: water bottle holders, plenty of disc storage, and a seat whenever you need it. Performance tires provide unrivaled traction over any terrain, and a heavy-duty, washable bag keeps maintenance to a minimum.
And, if you live in the continental lower 48 states, your shipping is FREE!
Cart design options include:
All-Terrain - This rugged outdoor bag is built for adventure. Like a duffle on wheels, it takes off-road treks in stride, carrying your gear over rocks, sand, dirt and snow so you don't have to. Add the seat cushion accessory and you'll have a place to sit and admire the view.
Compact - For disc golfers who carry a smaller set of discs, these compact carriers offer the same telescoping handle, removable tubeless tires, and rugged performance characteristics of the All-Terrain Disc Golf cart.
Transit - Storage is no problem with this cart that's equipped with an integrated bag that comfortably holds up to 25 discs and an additional gear platform for storage space underneath.
Trekker - This is a fully integrated cart with a durable frame, built-in seat, foam tires, and a replaceable Insert Bag with multi-functional storage. Easily carries up to 25 discs and anything else you need on the course.
Trekker LG - Holding up to 30 discs in an integrated compartment, this highly versatile cart is the perfect companion to your disc golf game with multifunctional storage, zippered pockets, and built-in putter slot!
Backpack - Turn your favorite bag into a rolling backpack and go anywhere with less effort and stress.
Backpack LG - The expanded capacity "LG" cart offers 50% greater capacity than the original Backpack Cart.